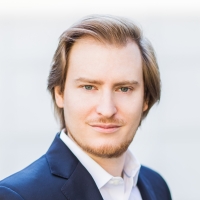 R. David Edelman
Director, Project on Technology, Economy & National Security
R. David Edelman is Director of the Project on Technology, the Economy, & National Security (TENS), part of the MIT Internet Policy Research Initiative (IPRI). He holds joint appointments in the Computer Science & Artificial Intelligence Lab (CSAIL) and the Center for International Studies (CIS).
At MIT, Dr. Edelman's research focuses on the domestic and international governance of advanced and emerging technologies, with a particular emphasis on AI policy, international digital trade and markets, and the national security dimensions of computing.  He teaches in Course 6, most recently 6.805: Foundations of Internet Policy.  In 2018-2019, he led a yearlong multidisciplinary effort on interpretable and robust models in the regulated consumer finance industry; organized the AI Policy Congress which brought together principal regulators and government experts from over 30 countries to build consensus on governance of AI tools; and served as lead technical expert on several government-focused projects on AI in national and international security.
Dr. Edelman came to MIT after nearly a decade managing domestic and global technology, economic, and national security policy issues in roles throughout the U.S. government.
Until 2017, he served as Special Assistant to President Obama for Economic and Technology Policy.  In that role he built and led the White House economic team responsible for digital economy matters including telecommunications/broadband, high-tech trade, and emerging technologies.  In addition to this domestic portfolio, during that time he also represented the National Economic Council (NEC) and Office of Science & Technology Policy (OSTP) on a range of national and homeland security matters.
Over six years in the White House, he led the development of and co-authored over a dozen Executive Orders, national strategies, legislative proposals, and Presidential reports — including the nation's first international cyber policy and its first AI policy.  He co-designed and managed over $15 billion of Presidential programs focused on economic opportunity, equality, and education.  One such initiative, ConnectED, has delivered personalized learning capabilities to over 30 million underserved K-12 students and raised the classroom broadband access rate in public-school districts from under 35% to over 98%.  He also led engagement with Fortune 50 companies resulting in billions in philanthropic commitments to underserved Americans, and along with interagency leadership, quarterbacked international trade and data governance agreements that today support over $260 billion in annual trade.
Before joining the economic team, Edelman served from 2010-2012 as the nation's first Director for International Cyber Policy on the National Security Council (NSC) staff.  There, he coordinated interagency development and implementation of cyber and Internet governance policies; worked alongside regional teams to manage the President's technology policy engagement with foreign leaders; and spearheaded new efforts to confront foreign cyber threats to the U.S. economy, punish technology-enabled human rights abuses, and build a coalition of developed and developing economies supporting an open and global Internet.
He began his career as a civil servant at the State Department's Office of Cyber Affairs, later acting as the United States' lead negotiator on Internet issues at the United Nations — for which he was awarded State's Superior Honor Award and twice its Meritorious Honor Award.
His insights and analyses have appeared in print in the New York Times, Wall Street Journal, Washington Post, WIRED, Fast Company, and Fortune, and broadcast on CNN, Bloomberg, CNBC, MSNBC, and NPR.  Dr. Edelman holds a B.A. from Yale and Master's and Doctoral degrees from Oxford, where he was a Clarendon Scholar.  His forthcoming book on restraining state use of cyberattacks will be published by Oxford University Press.
Last updated Apr 12 '21